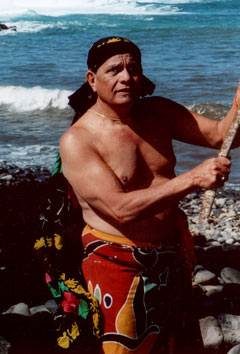 Tajalli in Hawaii 2003
ABOUT THE ARTIST
Tajalli was an incredible percussionist, flute player, synthesist and composer. An initiate of the Sacred Sound Current he dedicated his life to create healing and meditative music to help expand consciousness.
Tajalli was a shaman, a healer and a teacher. He collaborated on several albums with Suzanne Doucet as well as with Chuck Plaisance and Paradiso.
He released 12 albums of his own and participated in several other recordings. In his early days he performed with Gordon Lightfood, Santana and Steven Halpern.

SongVault.fm - The Best in Independent Music
VOTE FOR MY MUSIC ON SONGVAULT!
You can download Tajalli's music from iTunes
and other download providers.
Below is a collection of available CDs you can buy at CD Baby, Amazon and newagemusic.com. His music is also available at quality book and record stores.